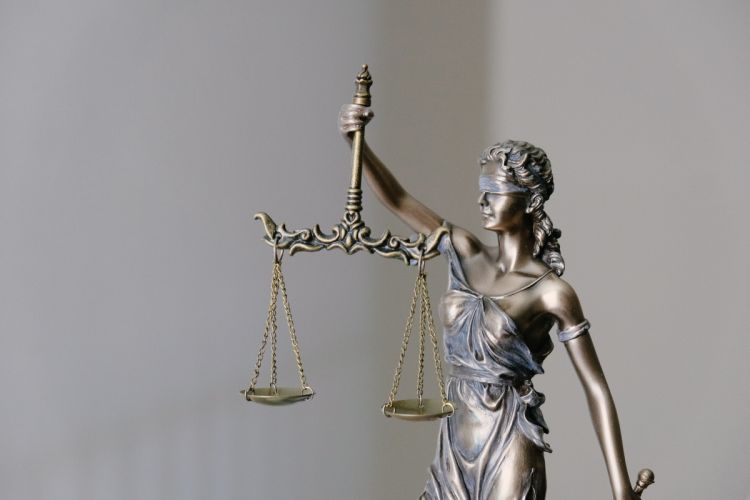 What characteristic of God do you turn to for hope? Many people (with good reason) would mention his steadfast love. Others might point to his faithfulness or his sovereignty.
The author of Lamentations heads in a different direction. He banks on God's justice.
God's Justice and Control
We've already looked at the first half of Lamentations 3, so this article will focus on the second half of that chapter (Lamentations 3:34–66).
In verses 34–36 we read a list of things of which "the Lord does not approve." Crushing prisoners, subverting lawsuits, and denying justice to people—God is utterly opposed to all of it.
One reason he can oppose these violations is that he is in control. No one can issue commands unless the Lord is behind it (verse 37). He brings both good and bad to those on earth (verse 38). Because he is just and sovereign, no one can claim ill treatment when they suffer punishment for their sins (verse 39).
Let Us Return to the Lord
We read something shocking in Lam 3:42: "We have transgressed and rebelled, and you have not forgiven." We cannot bear to think of God not forgiving!
The order in this passage is crucial. The poet sees the surrounding destruction and devastation as evidence that God has not forgiven. This is the reason the people must return to the Lord! The author is NOT saying, we have returned and God has not forgiven. No—the abundant evidence of God's anger is the reason the people must turn back to their Sovereign Lord. Because God has not forgiven, we must return!
God uses dramatic tactics to get through to his people. He pursues and kills them (verse 43). They cannot pray (verse 44). Their enemies taunt and destroy them (Lam 3:46–47). The people are panicking (verse 47). The author weeps uncontrollably because of the pitiful state of God's people in Jerusalem (verses 48, 49, 51). The only relief from this sorrow will come when the Lord sees and takes notice of those who are broken-hearted (verse 50).
I've seen this truth in my life and I'll bet you have too. We long for pleasant, peaceful times, but it is far too easy in those calm waters to forget God altogether. When the skies darken and the waves are high—then we realize we are not in charge, we are not self-sufficient. That shock brings us to our senses so that we soberly seek the Lord. In fact, that image of sobriety and inebriation is a little too accurate: prosperity and comfort often bring about a hedonistic stupor and a cloud of self-deception. This is why there are so many warnings about wealth in the Bible and why God uses suffering and sorrow to bring his people back to himself.
What does such a return to the Lord look like? It must include self-examination (verse 40) and confession of sin (verse 42). Genuine repentance occurs on the level of both affections and actions ("hearts and hands," verse 41).
God Has Taken Up My Cause
The author of Lamentations writes more personally in verses 52–66. It seems he suffered much in his physical body (verses 52–54).
A wonderful story unfolds in this brief discourse! The author called on the name of the Lord (verse 55) and the Lord heard this cry (verse 56). God not only heard, but he came near and calmed the poet's fears (verse 57). Let's not rush past the kindness and mercy of God in this response—meeting this man in "the depths of the pit" and with just the reassurance he needed.
The author now uses God's past response as fuel for future prayer. He knows God has taken up his cause (verse 58) and has seen all the violence of his enemies against him (verses 59–60). God has heard their taunts and their plots (verse 61). Because God is just, because he is in control, and because he has already come near, the author of Lamentations can ask the Lord to judge his cause (verse 59).
The poet has confidence that God will do exactly this, that he will repay his enemies (verse 64), curse them (verse 65), pursue them and destroy them (verse 66). God had been pursuing the Israelites (verse 43) in an effort to turn them back to himself. Now, according to his promise, God will pursue the enemies of Israel. The author hopes in the Lord because the Lord is, among other things, perfectly just.
Our Hope Also Lies in God's Justice
Like the Israelites stuck in Jerusalem after the siege, our hope is tied to God's justice. (It does not depend on his justice alone, but without God's justice our hope crumbles.)
Christians believe that when Jesus died on the cross, he really took our sins upon himself. And because God is just, even though Jesus was perfect, those sins of ours demanded punishment. Our hope that we will not suffer judgment for our sins lies in the fact that God dealt with them—perfectly, finally—in Jesus's sacrifice on the cross.
Additionally, when we grieve injustices in this world, we can still have hope. We can (and should) work for temporal justice for our neighbors near and far. And we can trust that God will deal with all sins according to his eternal justice.
God is kind. He is holy. He is patient and good and unchanging. He is also just, and his justice means that everything will be set right in the end. You can bank on that!