There was a fight in my house on Sunday morning. A big one.
We separated the combatants, and no one was badly hurt. I'm not sure what started the conflict, but I was relieved to hear the elephant was not involved.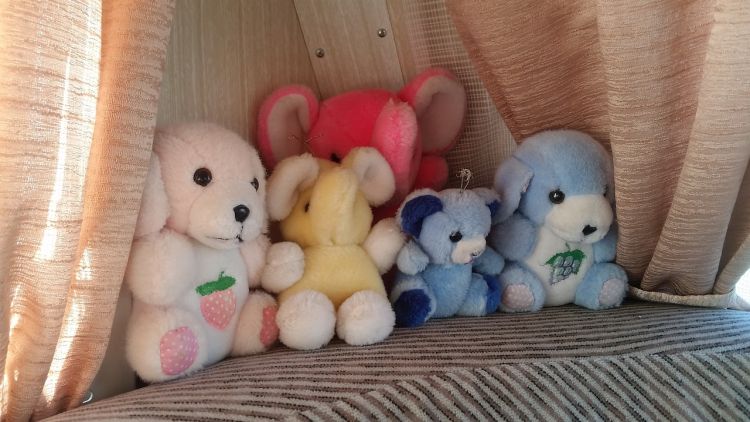 Making the Bed
One morning a few months ago, my youngest daughter (4) was taking longer than usual to make her bed. It was Sunday and I was trying to herd my children toward the car.
I entered her room and saw her deep in thought and narration. After straightening her pillow, sheet, and comforter, she was arranging some stuffed animal friends on top of the bed. This was serious business.
The animals were going to church. The sanctuary (the bed) was all prepared and the preacher (a penguin) was ready to give his address from the pulpit (the pillow).
We've seen a similar drama unfold every Sunday since. There isn't often conflict, but there is always a story.
Story and Joy
My children are constantly in the midst of a story. Their creativity bubbles and overflows, and I love it. (I blame and thank their mother.)
To me, making the bed is an easy, necessary task to complete as quickly as possible. I grumble throughout and take no pleasure in the chore.
But where I complain, my youngest delights. And she teaches me about her Creator.
Reflecting Our Creator
My daughter approaches work much more like God than I do.
He created and proclaimed it good. In every blue sky scattered with cottonball clouds, in every mud puddle begging for boots, in every colorful October leaf shower, can you see God's playfulness? His delight? His pleasure in creating, sustaining, and spinning our earth on his finger?
Since joy is a fruit of the Spirit, God must be the most joyous. This, despite so many efforts to paint him as severe, brooding, and dour. He is no British matriarch on PBS.
Yes, God is holy and his holiness demands obedience. But holiness is not drudgery. Obedience is not grim. For the Christian, growth in obedience parallels growth in joy.
Our Source of Joy
I don't mean our lives are all balloons and confetti. But the joy of the Lord is deep, warm, and abiding. This joy remains precisely because it doesn't depend on circumstances.
Our joy is rooted in a restored, permanent relationship with God. We have the promise of a future with him and a foretaste of it now. That God makes this joy available and free to his enemies is unimaginable.
And yet, there was a great cost to providing this joy. Though it was for "the joy set before him," Jesus endured the cross. Because of our sin, Jesus's joyous fellowship with God was broken for a time so we might know the unending joy of reconciliation with the Father.
Imagine not just the confusion and wonder at the discovery of the empty tomb, but picture the joy that first Easter morning. Jesus is alive! Death is not the champion—Jesus is!
Pursue Joy in the Lord
While stunning and earth-shattering, this truth has practical implications: more smiling, more singing, less complaining. This godly joy should trickle and seep into every second of every day.
Because God is king and Jesus is alive, we can find joy in even the most mundane tasks. Just ask my daughter—she'd be glad to show you.