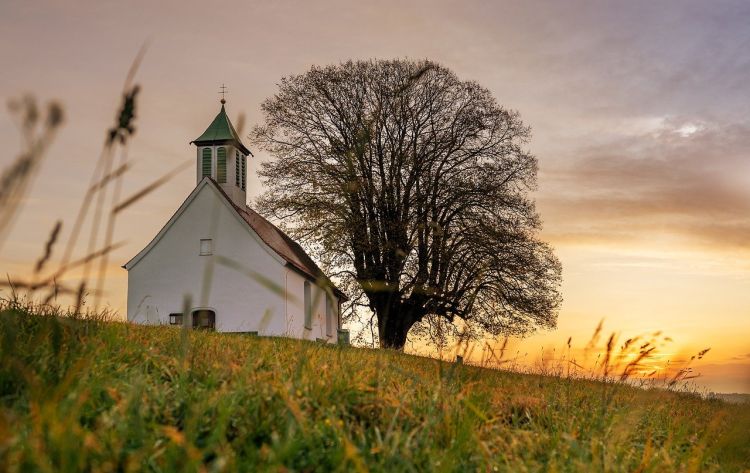 In my younger days, I thought the benediction just marked the end of the worship service. Perhaps the musicians needed a cue to prepare for the postlude.
Now, the benediction is one of my favorite parts of Sunday morning. I desperately need the blessing of the Lord, and I hunger for it as the worship service winds down. I know some of what Jacob felt, when he would not let the angel go without a blessing (Gen 32:22–32).
Many pastors use the familiar passage from Numbers 6 (verses 24–26) to bless the people of God. My favorite benediction comes at the end of 1 Thessalonians.
Now may the God of peace himself sanctify you completely, and may your whole spirit and soul and body be kept blameless at the coming of our Lord Jesus Christ. He who calls you is faithful; he will surely do it. (1 Thessalonians 5:23–24)
You may feel weary as you read this today, but by meditating on this blessing you may find just the encouragement you need.
For Sanctification
Paul begins by praying that God would sanctify his friends. If we're paying attention to the context of this passage, this request is no surprise at all.
Paul has spent most of his letter encouraging the Thessalonians in their sanctification—that is, their growth and maturity as followers of Jesus. He has remarked how far they have come, and he has urged them to press on still more. (See 1 Thess 1:2–10; 2:13–16; 3:6; 4:1–12; 5:11.)
This prayer for God to sanctify his people is a delightful and fitting summary of the letter.
The God of Peace
If sanctification is an unsurprising topic, the title used for God may be less expected. We may not balk at opening the Bible and reading about "the God of peace," but why does Paul use it here when praying about sanctification?
I usually connect peace with God to conversion and adoption. When my soul has a new orientation and master, I am no longer at war with my maker.
Yet, as any Christian knows, there are still "warring members" within us—territory within our minds and hearts that is not completely aligned with the Lord's desires. As we are sanctified, our wills and loves change and therefore the objective peace we have becomes more fully realized throughout our person. We offer less resistance to what is best for us and we experience more peace with God.
It is therefore appropriate that "the God of peace" is the one who sanctifies us—he changes our rebellion into glad submission and eager friendship with our master.
Entirely Changed
As sanctification is progressive—that is, it happens slowly and not all at once—it makes sense that Paul would ask for God to sanctify his friends "completely." The work has begun but is not yet finished.
Paul asks that God would keep their "whole spirit and soul and body" blameless. This phrase is Paul's head-to-toe description of a person.
There are many dark corridors, locked closets, and dusty crawlspaces in the sprawling estate of our hearts. The remodeling of the Holy Spirit takes time and, often, suffering. But make no mistake—the goal is a gleaming, beautiful, renovated home.
Look to His Coming
The coming of the Lord is a pervasive theme in 1 Thessalonians, so it is no surprise we see it in this final benediction. Paul touches on this topic at least once in each chapter of the letter!
This is not just a quirk of Paul's personality. The coming of the Lord should command our attention and be a great source of our hope. After all, that coming will usher in the time when we will be together with the Lord forever (1 Thess 4:17). All of the promises of God will come together to be fulfilled as we finally and eternally enjoy his unmediated presence.
So Paul prays that God would keep his friends blameless for that coming. He wants them to enjoy this most joyful occasion, and not to cower in fear when thinking of that day (1 Thess 5:4–6).
Hope in God
Paul ends this blessing by pointing back to God.
Paul writes that God is the one who calls them. He is the originator of their faith, bringing them out of darkness (1 Peter 2:9). And this same God who calls is faithful. He is sturdy and sure and unwavering. We do not have to guess whether he will continue to keep his promises—he will love his people perfectly, forever.
And finally, God will surely do it. That is, God will sanctify his people completely and he will keep his people blameless for the coming of Jesus. Paul has every confidence to trust in God this way, and his blessing urges us toward similar trust.
Blessing Indeed
Are you feeling stalled in your Christian growth? Frustrated by habitual sins and foolish decisions? Discouraged and in need of hope? Read this blessing, meditate on it, and pray it for you and for your friends.
Take comfort in the one who calls you, the one who is faithful, the one who himself will surely prepare you for heaven. This is blessing indeed.

Latest posts by Ryan Higginbottom
(see all)