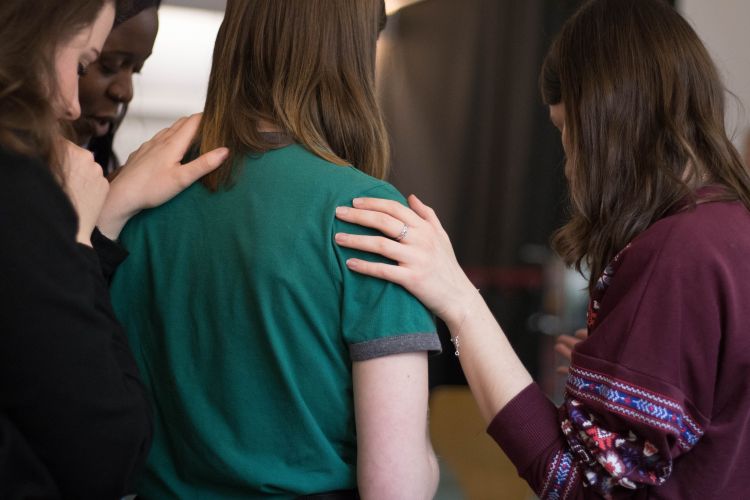 This part of the Bible wasn't written for me.

I'm not an older woman, so why should I pay attention to Titus 2:3–5? I'm not a preacher, so what relevance does 2 Timothy 4:1–5 have for me? It almost feels like opening my neighbor's mail.
The Effect of Individualism
We have a great temptation toward this thinking in the United States, as we breathe the air of individualism from an early age. Our sinful hearts hardly need any help, but our culture insists at every turn: be true to yourself, take care of yourself, believe in yourself. It isn't long before our lungs are full of that toxic cloud and we lack the oxygen to think about others.

But God has called Christians to a different reality. We are the body of Christ, a people vitally connected to each other and to Jesus.

For just as the body is one and has many members, and all the members of the body, though many, are one body, so it is with Christ. For in one Spirit we were all baptized into one body—Jews or Greeks, slaves or free—and all were made to drink of one Spirit. (1 Corinthians 12:12–13)

The books of the Bible were composed for all the people of God. Even when a letter was written to a church or an individual, the intention was public reading and instruction for the whole church.

So when we say that a part of the Bible wasn't written for us, we're actually wrong. If the Bible applies to anyone in the body, it has implications for all of us. We must not check out.
We Need Help From Others
Christians readily acknowledge that we need God's help to obey his commands. (Though we always do well to remember!) It's easier to forget how much help we need from other saints.

We need others praying for us, encouraging us, and giving us counsel. We need to talk with older saints who have stood in our shoes. We need the bold, clear-eyed enthusiasm of younger Christians to strengthen our wills to do what is right.

Finally, we also need correction from Christian friends when we sin. A gentle, loving rebuke is not often what we want, but we should seek and embrace this discipline. (See Proverbs 12:1.)

We must also view this truth—that we need others—from the other side. Others need us too. The experiences and wisdom God has given us are not just for our benefit; they're also for the church.
An Example: Husbands
Let's look at an example from 1 Peter. This command for husbands is found in 1 Peter 3:7.

Likewise, husbands, live with your wives in an understanding way, showing honor to the woman as the weaker vessel, since they are heirs with you of the grace of life, so that your prayers may not be hindered.

Husbands need the prayers of the saints to obey this command. Without the help of the Holy Spirit, husbands will not love and sacrifice in the ways God requires.

Husbands should also talk to married men and women of all ages and experiences. Though understanding and honoring one's wife will look different from one marriage to the next, husbands can learn of helpful habits to develop and dangerous pitfalls to avoid through the counsel and stories of others.

Each husband needs a few close friends who will ask him difficult questions. Are you honoring your wife? How are you living with her in an understanding way? Good friends will remember a prayer request or a confession of weakness and ask specific follow-up questions the next week. These friends will offer encouragement when they see fruit. A husband may also need a loving rebuke when neglect or selfishness continues without repentance.

And, of course, husbands need to listen to their wives. A wife will know if her husband is working to understand her and live with her accordingly. She will feel the presence or lack of honor.

None of this help is easy or natural to give, and none of it is possible without the work of the Spirit within us.
Called to Obey as a Body
The key to this obedience in community is love. It takes seeing and experiencing God's love to lift our eyes off ourselves and recognize our corporate calling.

Rather, speaking the truth in love, we are to grow up in every way into him who is the head, into Christ, from whom the whole body, joined and held together by every joint with which it is equipped, when each part is working properly, makes the body grow so that it builds itself up in love. (Ephesians 4:15–16)

God didn't call us just to each other, he called us to himself. Through the atoning work of Jesus, God has forgiven his people and the Spirit is working to change us. Though withdrawal may be our default mode—wanting neither help from others nor to give aid ourselves—we are no longer slaves to this sin.

He himself bore our sins in his body on the tree, that we might die to sin and live to righteousness. By his wounds you have been healed. For you were straying like sheep, but have now returned to the Shepherd and Overseer of your souls. (1 Peter 2:24–25)

The wounds of Jesus have set us free and given us a new identity. We've been healed of our sin so that we might live to righteousness.

By God's power, let's do just that. Together.


Latest posts by Ryan Higginbottom
(see all)