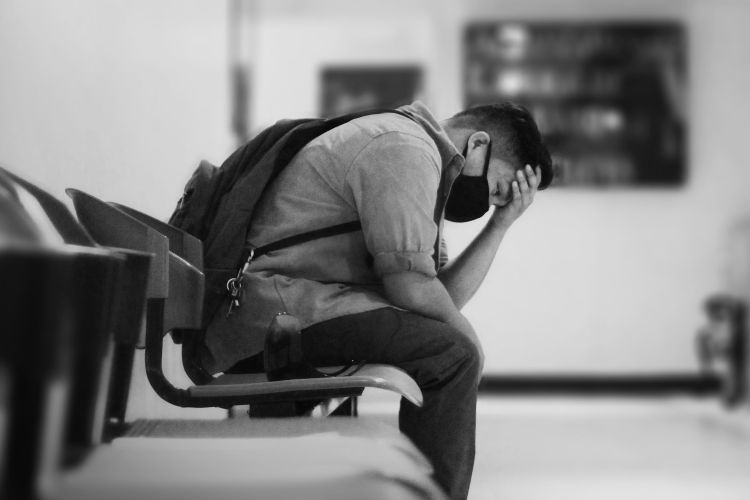 I am an optimistic person. I go through life assuming that things will generally work out. Yet somehow, I remain a worrier. In my mind, I run through all the imaginable scenarios. I experiment with what my emotions would be in all of the varied possibilities. I explore likely outcomes, and ideally, I see that most of them have solutions. Not a bad thing, right?
Occasionally, however, I will latch on to one scenario, and it will play in my mind on repeat. Perhaps you have also had the feeling of trying to fall asleep while the dreadful what-ifs dance across your mind as if projected on a movie screen. Worry is rumination on unknown future events, and I easily get stuck in the cycle.
Let Go and Let God?
Throughout my life, well-meaning friends and family members have reminded me that worry is sin. The Bible exhorts us multiple times to avoid worry or anxious thoughts. Proverbs 12:25 reads, "Anxiety in a man's heart weighs him down, but a good word makes him glad." I need to recognize and respect God's control over my situation, not rely on my own abilities. People in my life encouraged me to "let go and let God." While this pithy phrase seems wise and is thrown around often, it left me confused and dissatisfied. First, I cannot give God permission to do anything, and implying that I can "let" him do something is, at best, irreverent. Secondly, the idea of letting go of something as ephemeral as worry is far from concrete. What does that look like?
When I tried to enact this common advice, my version of letting go and letting God do his work looked like stuffing emotions down deep and ignoring them as best as I could. I swallowed hard and muscled through, trying to push aside the urge to examine and problem-solve. You may recall Scarlett O'Hara's line in Gone with the Wind when she says, "I can't think about that right now. I'll go crazy if I do. I'll think about it tomorrow." When I tried to "let go and let God," I was good at pulling a Scarlett O'Hara. I could set aside a problem and refuse to look at it again. But is that the same as relying upon God?
Some struggles do seem to disappear when we focus our attention elsewhere. That parenting issue that appeared to be crucial to a healthy future gradually fizzled out. The second opinion from a new doctor brought a more positive diagnosis than we anticipated, or the car repair did not cost as much as we feared. Time can be a powerful tool. However, burying concerns or always trying to wait them out are not the same as relying on God.
Praying for Wisdom
I have puzzled over the idea of submitting my concerns to God for years, and I have recently come to one conclusion. The most concrete action I can take to surrender my anxious thoughts to God is to pray for wisdom. When I find myself in a state of worry, I tend to pray only for deliverance. I want the bad news to be erased. I want the illness to be healed or the conflict to be resolved. I want the anticipated struggle to be eliminated fully and quickly. God invites us to ask for specific things when we come to him in prayer, but when we pray with a list of solutions, we are still trying to do the problem-solving for God. We bring the answers that seem most appropriate to us. As I contemplate how to really surrender to the Lord, I am beginning to understand that when we pray for God's wisdom, we are aligning ourselves with our heavenly Father. Praying for his wisdom is full surrender to his will.
James 1:5 reads, "If any of you lacks wisdom, let him ask God, who gives generously to all without reproach, and it will be given him." When anxiety and fear take over, we are essentially falling victim to a lack of wisdom. We simply do not know the future, and we do not know God's intentions in our present circumstances. When we pray for wisdom, we please God because he is delighted when we come to him and surrender to his ways. We fall in alignment with his work and will.
God Can Be Trusted
The idea of walking in line with our creator and resting in his wisdom sounds lovely, but how can we feel at ease while relinquishing control? I can attest that lack of control is a primary component of the worry cycle. How, then, can surrender be a step toward peace? The answer lies in the nature of God himself. If he is trustworthy and his ways are good, we can surrender without fear (Psalm 100:5). If we believe he loves us and is working for our well-being, we can unclench our fists and take hold of his promises (Romans 8:28). As modern day Christians, we have the privilege of looking back upon God's ancient promises—as early as the garden of Eden—and seeing their progression toward the death of Christ on the cross. We can recognize God's work there on Calvary and see the fulfillment of his covenant in the tomb where only a piece of cloth remained. We see stunning evidence of God's reliability and truthfulness when the depths of his love were on display that morning.
In Proverbs 2:6, we read, "For the LORD gives wisdom; from his mouth come knowledge and understanding." As human beings, we will not gain full insight that belongs only to God. However, the Lord lovingly answers our prayers for wisdom by granting the perfect dose he desires for us. His wisdom is the antidote to worries that threaten our peace and erode the faith upon which we rely. We are safe to cling to him.