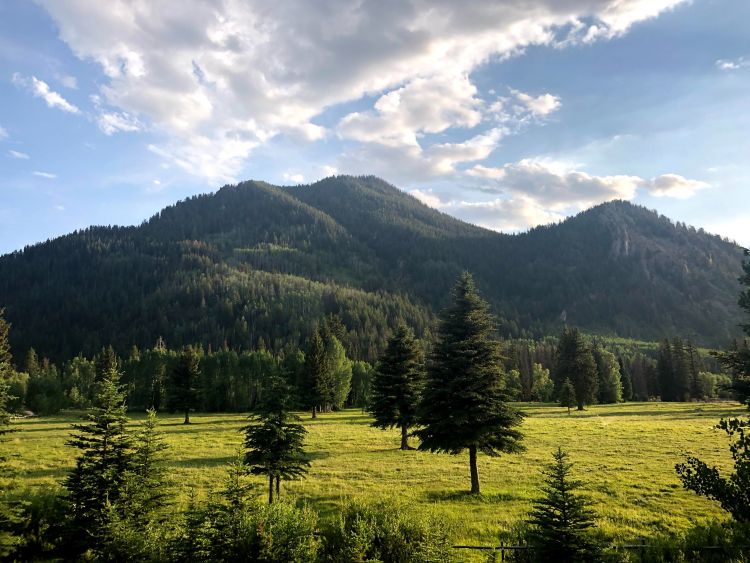 In one of my earliest memories, I follow my grandma up the hill of my backyard. She has a tiny pine tree in her hands, the roots wrapped in plastic. We kneel on the mossy ground together as Grandma digs into the dirt at the edge of my parents' property. This baby tree joins a line of mature pines that create a natural boundary—a curtain of green that provides privacy and a bit of protection from the dust of the country road. I am about four years old, and I help by patting the earth and pouring water at the tree's base. The tree is mine.
∞∞∞
This brief, clear memory opens up into years of playing with my sister in front of that young tree. We watched it grow. We stood next to it, marveling at both its growth and our own. It became a backdrop for our play. It stood watch as we acted out imaginary scenarios, had picnics, put up Dad's old tent, and pumped our legs on the big swing set. As we surged up into the air, we could look over the roof of our house and see the beautiful Allegheny River below. This was the place where imaginations soared—the epitome of childhood.
Broken but Growing
I have another memory on that hill that is just as clear as planting with Grandma. One afternoon, I stood near my tree, talking to a boy. We were both around eleven or twelve years old. This boy was a classmate and the closest thing we had to a neighbor in our very rural spot in Armstrong County. He wasn't being malicious when he wrapped his hand around the thin trunk and twisted my young pine. He was talking casually, absently fiddling with whatever happened to be near. But when he pulled and my little tree snapped, my heart dropped. By this time, the tree had grown to be a bit taller than me, probably around five feet, and suddenly, it lost its perky top to the hands of a middle schooler. I yelped! He apologized, but I knew he didn't understand why I was upset about a little broken tree.
Years later, when I was a new college student home for the weekend, I noticed that the trunk seemed to bend around its wound and grow straight upward. The bend was visible, but the growth beyond that point was straight and strong. On a recent visit to see my parents, twenty years since college, I walked up the hill to where my tree is planted. The big swing set has been replaced by a small hammock swing, and from that perch, I could still see the Allegheny running by the property. I was shocked by the size of my tree. It towered over me, and there is no longer any sign of where the trunk was once twisted and snapped. A spot that was undeniably damaged years ago became strong again. The rough and bent scar is smooth and straight.
Hard Decisions
I had a conversation recently with a fellow Christian. We were talking about the gravity of big decisions and the common fear of possibly ruining one's life by making the wrong choice. College or not? Marriage or not? This job versus that job? Say yes to the date? No to the cross-country move? These choices can feel dire. It sounds dramatic, but I have experienced that feeling of potential doom as I contemplated a life-altering decision. In childhood and in our teen years, we are often taught the big consequences of our choices, and we can be paralyzed by the potential effects. While wisdom and discernment are vital in making good decisions, when we bring fear as a major component of our decision-making process, we attempt to remove God's sovereignty and create an idol out of our idea of a perfect future. As I chatted with my friend, I commented light-heartedly that God isn't going to simply leave us behind because we picked the "wrong" college or turned down the "right" job.
The Bible assures us that we can be confident in God's plan. Job asserts in Job 42:2, "I know that you can do all things, and that no purpose of yours can be thwarted." This is reassuring! The Lord has plans that will not be interrupted by our failures and inadequacies. His will is not dependent upon us making perfect choices. We can find assurance in his infallible wisdom and strength. God's plans are bigger than the life decisions and career goals about which we make long lists and agonize to friends. Consider Ephesians 1:7–11:
In him we have redemption through his blood, the forgiveness of our trespasses, according to the riches of his grace, which he lavished upon us, in all wisdom and insight making known to us the mystery of his will, according to his purpose, which he set forth in Christ as a plan for the fullness of time, to unite all things in him, things in heaven and things on earth. In him we have obtained an inheritance, having been predestined according to the purpose of him who works all things according to the counsel of his will, 
God's view of the future is a picture of eternity. His will covers forever, not merely the next step. We can be bent and broken like my tree and still grow steadily in God's will. God's plan is bigger than a single tragic moment or a seemingly pivotal decision. The things of earth and things of heaven work together toward the fulfillment of God's perfect plan.
God's Intended Path
At first, I thought my tree would die. The inner wood looked white and ragged, different from the smooth gray trunk. The trauma left a very clear mark, and the tree was forced to grow differently. It made a detour, and as time passed and the tree grew well beyond the point of its trauma, its health was stronger than the moment of its wound.
We come to the Lord broken. Sometimes our hurts come from our own actions; we take paths he never intended for us. Our sin is apparent and central. Sometimes we encounter pain, tragedy, and difficulties that leave us with profound wounds. But as we walk with the Lord, seeking his plans and calling out to him, he leads us along his intended path. Our wounds may be tender and obvious, rough and ragged, but he guides us around and through those places where we are torn. Some of our broken places will be completely healed. Some will leave permanent scars. Yet we can always find assurance in God's plan and his purpose.