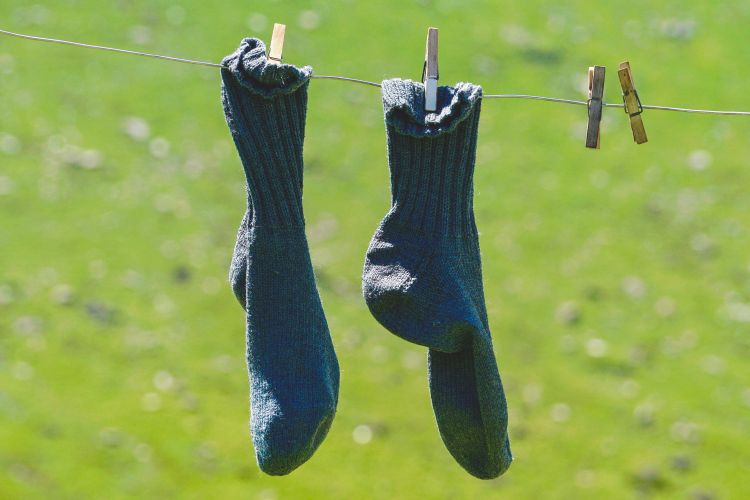 I'm putting off laundry to write this.
There's always laundry. And dishes. And crumbs on the floor. I feel the constant pressure to do the next chore to keep the house in order. Then my child asks me to read a book. But, the laundry!
This is when senior parents say, "Enjoy your children while you can! The laundry can wait."
It's so well-meant. It usually comes from people who dearly love their own now-grown children and miss the sweetness of soft toddler snuggles, the warm feeling of a child pressed against you asking for one more chapter. They want to free young parents from the tyranny of maintaining Insta-perfect homes to enjoy their children. Read the book; the laundry can wait.
Unfortunately, my laundry has already waited, and so have the dishes. If a young parent has expressed distress about the pressures of housekeeping and childcare, they have already let the dishes go. Eventually you're out of sippy cups and clean underwear.
Stress and overwhelm aren't unique to parenthood, and neither is dismissive advice. We tell overworked friends, "Just leave work at work." We tell lonely teens, "It's just high school; you won't care in a few years." Unfortunately, being told "don't worry" doesn't solve our problems.
Do Not Worry about Your Laundry
"Enjoy your children," spoken to a parent who feels overburdened, or "Just leave it at work," spoken to someone against a deadline, can feel like an added pressure. Not only must you meet your ordinary responsibilities, but you must also have a sense of peace or appreciation about it all!
And yet, Jesus taught his followers, "Do not worry":
"Therefore I tell you, do not be anxious about your life, what you will eat or what you will drink, nor about your body, what you will put on. Is not life more than food, and the body more than clothing?" (Matthew 6:25)
Although it's phrased as a command, the tone of this section of the Sermon on the Mount is not a burden laid on a shoulder already heavy with anxiety. Instead, it's a gracious release. We don't need to worry about even our basic needs, because "your heavenly Father knows that you need them all" (Matthew 6:32). We are God's children, adopted in love, redeemed at the dear cost of his Son's blood. If God provides for the lilies and the birds, we can be assured that he will also care for us, his beloved children.
God provides for his children in many ways. A primary way is through the church body, the hands and feet of Jesus in the world. When we see another member of the body struggling, it's a call to action.
When explaining the vital connection between faith and works, James highlights the importance of putting action behind our words. "If a brother or sister is poorly clothed and lacking in daily food, and one of you says to them, 'Go in peace, be warmed and filled,' without giving them the things needed for the body, what good is that?" (James 2:15-16). Jesus Christ is the ultimate display of this: He not only met many physical needs during his earthly ministry, but he also put aside his glory and laid down his life to meet our deepest spiritual need, atoning for our sins on the cross. Following his example and empowered by his Spirit, we are also to meet one another's needs as we are able.
Telling young parents to enjoy their children, without also offering to help with the dishes, or telling a student to ignore hurtful remarks from classmates, without also helping them find a safe community, places the burden back on the suffering person. Instead, we are called to "Bear one another's burdens, and so fulfill the law of Christ" (Galatians 6:2).
Please don't hear me wrong. Telling people to enjoy their children and suggesting healthy work/life boundaries are not bad things to say. Tone and timing go a long way in making advice land well where it's needed. All I'm saying is, if you're about to tell a young parent to let the dishes go, maybe be prepared to pick up a dishrag.
But Seriously, Do Not Worry about Your Laundry
But Jesus really did say, "Do not be anxious, saying, 'What shall we eat?' or 'What shall we drink?' or 'What shall we wear?'" or "When shall we fold socks?" (Matthew 6:31). Okay I added that last one.
So if you're the parent putting off laundry, or the employee under deadline, or the kid dreading school tomorrow, how do you just … not worry about it?
First, take comfort. Your heavenly father knows your needs, and he cares about you (Matthew 6:32).
Second, check your motives. Jesus tells his followers to, instead of worrying, "Seek first the kingdom of God and his righteousness, and all these things will be added to you" (Matthew 6:33). Do you want to keep a clean house because you want to feel good about your own ability to do it all? (That's my hand raised, it's me.) Or do you want to keep a clean house because God has placed this home and this family in your care, and you want to serve them well?
When our eyes are set on the kingdom of God, our measure of success changes. The cleanliness of the house takes second place to whether my kids see the gospel in me as I love and serve them—which includes providing a safe and comfortable home. Meeting the deadline takes a backseat to doing your best work, not for man but for God (Colossians 3:23). Getting treated badly at school will always feel awful, but it becomes an opportunity to model grace in a setting where people expect cruelty.
Finally, use your resources. God has promised to provide for you! Now, God doesn't always play by our rules. He may not provide a maid; or an extension; or a comedic series of harmless accidents that leave your bully hanging from the school flagpole by a wedgie, leading to a heartfelt reckoning where enemies become friends.
God has provided a community in his church. All those people who told you to let the dishes go might just be willing to scrub a pot because they know from experience how precious it is to spend time with your kids! They're only little for a little while, so I'm told.
Asking for help is hard, both logistically and in principle. We live far apart from one another, often siloed in our single-family homes. Our culture prizes independence and personal responsibility; we don't dig around in other people's private lives and problems, and we expect the same from others. That's not God's model for his body!
Immediately before he laid down his own life for his bride, Jesus washed his disciples' dirty feet and instructed them to serve others as he did. Asking for help gives others the opportunity to serve like Jesus.