On a bright Saturday morning in the spring, I drove to the grocery story to pick up a few items. The day was full of promise.
We were enjoying a weekend visit from my wife's parents. After gathering some supplies for the homestead, I planned to work for a few hours at the office and then enjoy the afternoon and evening with my family and in-laws.
When I tried to leave the grocery store parking lot, the car gave only a mild attempt at starting. It was as though I had tried to rouse the car after a late-night rager; it acknowledged my presence, turned over once, then retreated under the covers. We both knew it wasn't getting out of bed any time soon.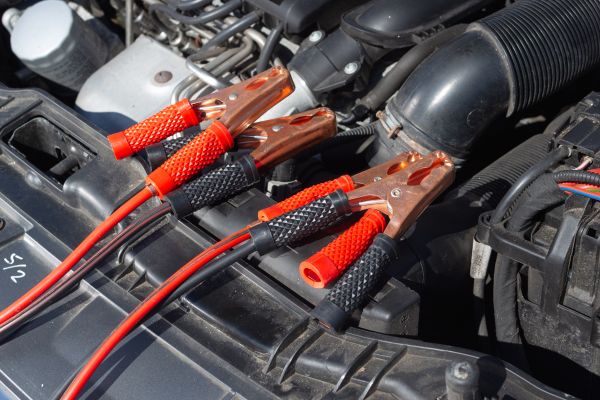 Waiting
While I waited for my wife and mother-in-law, I tried to start the car several more times. I've dealt with a dead car battery before, but these noises sounded different. With no particular automotive expertise, I decided there must be a problem with the starter, not the battery. When my mother-in-law suggested that we try to jump start the car, I brushed the idea aside, convinced my diagnosis was sound.
AAA assured me a tow truck would be there within the hour. That seemed reasonable. I read a book with the car windows down, enjoying the parking lot bouquet of carbon monoxide[1] and warming asphalt. Soon one hour turned into three. A tow truck driver finally arrived and I offered my expert opinion about the faulty starter. He proposed we try to jump the car anyway. Given his profession (not to mention his muscles and tattoos), this was no proposal—it was the plan. But I was sure this attempt would fail.
Immediately, powerfully, triumphantly, the car started. Like a bridegroom coming out of his chamber. I could not have been more wrong.
This kind driver obviously dealt with proud idiots of my caliber on a regular basis. He smiled, shook my hand, and instructed me to drive directly to the auto parts store. I replaced the battery and returned home five or six hours after departing.
Lessons About Pride
God has convicted me of pride before (and I've written about pride once or twice), but this was a technicolor example. Here are some lessons I hope to learn about noticing and combating pride.
Be careful of insisting that you are right. — This boils down to the fundamental Biblical command that we should not think too highly of ourselves. This applies when we are experts in a field. It certainly applies when we are not.
Be willing to listen to others. — Had I listened to my dear mother-in-law I would have saved a lot of time that Saturday. And who was I to scoff at the expertise of the tow truck driver? We cannot and will not listen to others unless we are humble, unless we believe that we need other people. (This is a good thing to believe, because God says it is true.) Hear ye the proverb: "When pride comes, then comes disgrace, but with the humble is wisdom" (Proverbs 11:2).
Beware the trap of the stubbornness of pride. — Pride seemes to brings with it a certain isolating stubbornness. As I sat in the parking lot, I was not only full of complaints but I was also strangely smug. There is a wicked satisfaction in being the only one in the world who is right, with all arrayed in splendor against you. In the grip of pride, I can actually enjoy this isolation. I head into a self-congratulatory cycle with my ears closed to outside voices.
We can combat pride by growing in humility, thinking accurately about ourselves and our God. I recommend a heaping dose of the Bible (just about anywhere will do, but Job 38–41 is a fine place to start) along with relationships with people who will be honest with you.
[1] I know this is odorless, just go with me.