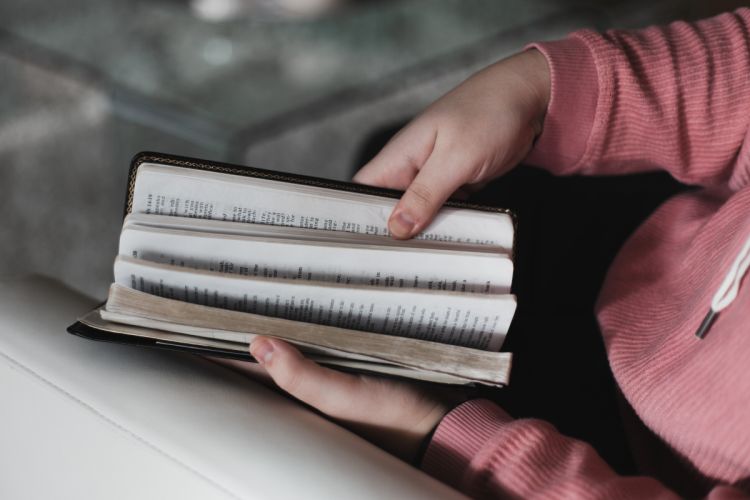 Creation groans, and we echo that same mournful tune.
We feel the Curse deep inside. We are broken people in a broken world, and no one avoids some measure of suffering. In my article on Lamentations 4, we saw the author arrive at the end of his lament with nothing but a promise of God. We too, at times, may feel like everything is stripped away. Our anguish seems like the most tangible element of life.
But we also have the promises of God! These are good gifts meant to sustain us and stoke our hope for the future.
Which Promises?
The Bible is stuffed with promises. However, we can't claim every promise we find.
For example, some Bible promises are conditional. Consider Psalm 37:4: "Delight yourself in the Lord, and he will give you the desires of your heart." We cannot claim that God will meet our every desire unless we are delighting in the Lord.
Further, God made some promises to specific people at specific times (see Joshua 6:2). He made other promises to Israel, and we need to think carefully about whether they carry over to the church and/or individual Christians.
Where does this leave us? We still have many Bible promises that are meant for us. This article focuses on those which are helpful in the midst of suffering.
Promises for Sufferers
I've divided these promises into five categories. Learning, digesting, and even memorizing these verses will not eliminate pain or make suffering somehow desirable. But they will help us to trust in the Lord in dark times and to fix our eyes on Jesus.
God is with you
Keep your life free from love of money, and be content with what you have, for he has said, "I will never leave you nor forsake you." (Hebrews 13:5)
The Lord is near to the brokenhearted and saves the crushed in spirit. (Psalm 34:18)
For I am sure that neither death nor life, nor angels nor rulers, nor things present nor things to come, nor powers, nor height nor depth, nor anything else in all creation, will be able to separate us from the love of God in Christ Jesus our Lord. (Romans 8:38–39)
Suffering is often extremely personal and therefore isolating. In those times, we can treasure God's presence with us. He is near to those in anguish, and he has promised never to leave or forsake his children. Nothing at all—not even this present suffering—will be able to separate us from God's love for us in Christ.
God will comfort and rescue you
Blessed be the God and Father of our Lord Jesus Christ, the Father of mercies and God of all comfort, who comforts us in all our affliction, so that we may be able to comfort those who are in any affliction, with the comfort with which we ourselves are comforted by God. (2 Corinthians 1:3–4)
And after you have suffered a little while, the God of all grace, who has called you to his eternal glory in Christ, will himself restore, confirm, strengthen, and establish you. (1 Peter 5:10)
Because God will not abandon us, and because he loves us, he will comfort us in the midst of turmoil and eventually pull us out. Though pain and suffering seem unending, for the children of God, they are not. God will restore and strengthen us, whether on this side of glory or the other.
God will use your suffering for your good
So we do not lose heart. Though our outer self is wasting away, our inner self is being renewed day by day. For this light momentary affliction is preparing for us an eternal weight of glory beyond all comparison, as we look not to the things that are seen but to the things that are unseen. For the things that are seen are transient, but the things that are unseen are eternal. (2 Corinthians 4:16–18)
Not only that, but we rejoice in our sufferings, knowing that suffering produces endurance, and endurance produces character, and character produces hope, and hope does not put us to shame, because God's love has been poured into our hearts through the Holy Spirit who has been given to us. (Romans 5:3–5)
God is in the business of turning bad things to good. Affliction prepares us for an eternal weight of glory beyond all comparison, and our sufferings produce endurance, character, and hope. Our sufferings in themselves are not good, but God brings good out of them.
Everything will be made new
Behold! I tell you a mystery. We shall not all sleep, but we shall all be changed, in a moment, in the twinkling of an eye, at the last trumpet. For the trumpet will sound, and the dead will be raised imperishable, and we shall be changed. For this perishable body must put on the imperishable, and this mortal body must put on immortality. (1 Corinthians 15:51–53)
And I heard a loud voice from the throne saying, "Behold, the dwelling place of God is with man. He will dwell with them, and they will be his people, and God himself will be with them as their God. He will wipe away every tear from their eyes, and death shall be no more, neither shall there be mourning, nor crying, nor pain anymore, for the former things have passed away." (Revelation 21:3–4)
Our groaning bodies will put on immortality. Our new dwelling will be with God himself on a new earth. The mourning and crying and pain we experience now will then only be known as "former things."
We will be forever with the Lord
Then we who are alive, who are left, will be caught up together with them in the clouds to meet the Lord in the air, and so we will always be with the Lord. Therefore encourage one another with these words. (1 Thessalonians 4:17–18)
And I heard a loud voice from the throne saying, "Behold, the dwelling place of God is with man. He will dwell with them, and they will be his people, and God himself will be with them as their God." (Revelation 21:3)
The promises of a glorified body and a curse-free earth would be nothing without God's eternal presence. The suffering we experience will be a distant, faint memory because we will live face-to-face forever with our Creator and Redeemer.
(Yes, I have listed Rev 21:3 twice. But it's jaw-dropping, and we all probably need it twice.)
All By Grace
These promises are ours. But they are ours by grace. Our works deserve God's wrath, not his blessing. These promises are given to us because we are the children of God, united to Jesus, sealed by the Holy Spirit.
What then shall we say to these things? If God is for us, who can be against us? He who did not spare his own Son but gave him up for us all, how will he not also with him graciously give us all things? (Rom 8:31–32)

Latest posts by Ryan Higginbottom
(see all)