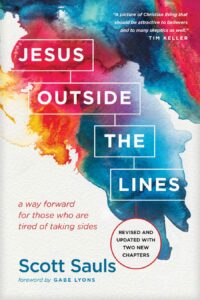 Everywhere I look, I see divisions. There are lines drawn between people, pitting us against each other because of skin color, finances, gender, political party. Even in the church, we put up boundaries to keep from mixing with people who are different. I lament the way we are separated. I'm tired of it.
So, when I found Jesus Outside the Lines, I began reading it immediately, finished it in a day, and immediately wanted to hand a copy to everyone I know.
This fantastic book, written by Pastor Scott Sauls, gently leads us away from an us-against-them mindset and toward loving our neighbors despite our differences. He begins with an introduction that reminds us of Jesus's call to love all people, even those who do not love us. He shows how kindness to people who do not agree with us flows naturally from God's mercy and compassion to us.
Sauls addresses two different ways in which we must love across divisions, and these are the book's two parts: within the body of Christ and outside of it. In each section are several chapters addressing particular issues that are difficult for Christians.
The first section covers loving our siblings in Christ across internal borders. It includes chapters addressing political and economic differences, among others, and how we must love people who voted for the other candidate or who earn more or less than ourselves. It is equal parts exhortation and encouragement. It is easy to say we must love our family; actually doing it can be difficult!
The path is harder still in the second section, because we are also meant to love those who do not believe as we do. This part addresses far more subjects, because there is so much to keep in mind when we talk to non-Christians. Should we affirm or critique? Should we be hopeful or realistic? What do we say when we are called hypocrites? How do we talk to those outside the faith about chastity?
Sauls doesn't pretend to have all the answers, but rather helps the reader think through this important question: How do we love our neighbors, especially when we do not agree with them? The question is crucial since we will disagree with nearly everyone on one point or another. As people of God, we must treat each person with loving kindness, regardless of their beliefs.
The majority of people I interact with during the week are not Christians. It can be challenging to relate to classmates who center their lives around something that is not God, and sometimes this fundamental difference threatens to divide us. But I don't want this to happen; I care about many of them, and I want to be someone people can count on to listen when they need to talk, to be kind when they are hurting. I want God's light to reach them. This book provided guidance about the confusing mess of human relationships in light of God's word and his love for us. It gave me permission to affirm and encourage non-Christians around me and to be friends with them. It also reminded me that critique, not criticism, is sometimes the most loving thing to do, and I ought to do so with an attitude of gentleness, not judgement. 
If you want to learn how to talk to people who aren't (yet) believers or how to handle politics with other Christians, Jesus Outside the Lines is a great resource. It would be valuable for anyone who wants to build friendships with people who don't agree on every issue, whether inside or outside the church.