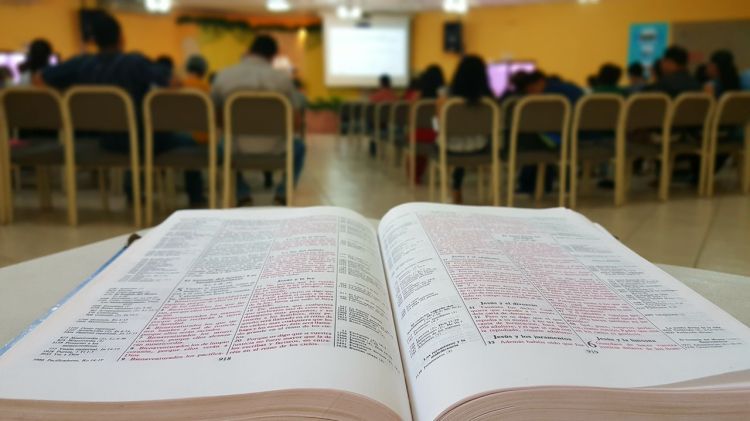 I first saw it on Facebook: "Dwelling in Scripture – Biblical Training for Women." Sounds good.
I read their purpose statement:
To help women to independently study the Bible within the context of redemptive history.
To encourage women to receive the inspiration and power of God's Word.
To help women to grow in their relationship with and knowledge of God.
Even better. Where do I sign up? The page stated that they would send you a passage to study before you arrived. That seemed different, but interesting. I was sure it would enhance whatever the speaker would be teaching us.
As promised, about two weeks before the conference, I received an email to inform me of my passage to study: James 1:2-18. I read through it and decided that, though familiar, it would be beneficial to work through it carefully. Then I noticed the fine print:
"Prior to the training you will be given a scripture passage to meditate on and to use to prepare a 5-minute presentation during the group time at the event. You will also be given preparation materials to assist you in working on your assigned passage."
WHAT? I thought I was attending to learn HOW to do this, not to actually get up in front of people and do it myself.
It wasn't really fine print–I just hadn't read the whole page carefully. I panicked somewhat, but not enough to keep me from putting it off until the following week, which is typical for me.
The following week I was sick. All week. Which is not typical for me. I was sick enough that I didn't do much of anything that week. However, from time to time I'd glance at the passage and write down a few words. James 1:2: "Consider it all joy, my brethren, when you encounter various trials…" Ha. Ha. The irony of my assignment was not lost on me.
As the week progressed, I was doubting I would even make it to the conference because of my illness, but I continued reading and jotting.
The day of the conference I woke up feeling slightly better, maybe even well enough to attend. I arrived that evening, located my table (we were seated with our small group), and cautiously ate a few bites of my dinner while chatting with my table mates. We sang a few songs, then went right to our assigned rooms for our small groups. All fairly typical conference stuff, right?
After the leader gave a brief introduction of how the small group format would work, the first presenter read her passage, then wrote her central idea on the board. Writing a central idea was part of our assignment. It was defined as a biblical truth about God, a simple sentence, and God-centered. It should not be a summary. The group then spent time dissecting her central idea, making sure each phrase was God-centered and not man-centered.
I glanced down at what I had written as the central idea for my own passage. Even though the sentence began with the word "God," it was very man-centered. But I felt justified! This passage is full of directives: "consider," "ask," "ask in faith," "let no one say," "do not be deceived." How could I write a central idea that is not even a little bit man-centered? I was starting to get annoyed.
As the evening progressed, I found myself getting more irritated as what I thought were perfectly good central ideas were taken apart, analyzed, and re-written.
Back at the hotel room, I decided I wasn't going to obsess over it or change anything – I would just present it as is. I called Don and subjected him to an in-depth rant. He politely listened, but offered no counsel.
After a fitful night of sleep (I'd been struggling with insomnia for weeks), I woke up at 4 a.m., wide awake. I couldn't stop thinking about the concept of making my central idea God-centered. I looked again at what I had written: "God uses trials and testing of our faith to strengthen us; we are blessed when we look intently into His Word." It was all wrong. I considered when it was my turn to present, going up to the board, writing my central idea, then immediately drawing a red line through the whole thing. Except the word "God"—that's good. That can stay. I got out my Bible and read through the passage again. Then I went back to the beginning of the passage and tried to focus particularly on any characteristics of God. I was still in denial, thinking my central idea was very good and convinced that any changes would leave out important concepts.
I prayed, and as I wrestled through the verses, God's character shone through: "God, who gives to all generously," "the Lord has promised," "He Himself does not tempt anyone," "the Father of lights, with whom there is no variation or shifting shadow." I was seeing a familiar passage with fresh eyes – eyes that had previously predetermined what they saw, but were now slowly being opened to a different way of thinking. I was astounded. My irritation was fading and being replaced by thankfulness.
I completely changed my central idea: "God generously gives His wisdom and goodness through trials." The leader said she was excited that I had "wrestled" through the passage. I found I enjoyed sharing what I had learned and appreciated the group's addition of two words to the beginning of my central idea: "Our unchanging God…" We had all started as kindred spirits in our anxiety about presenting to strangers, but ended up enjoying each other as sisters in Christ and in our study of God's Word.
Do you hesitate at the thought of going to a conference? Or maybe there's something else that makes you think, "I can't do that." Ask God to show Himself and His character to you. Don't forget that Jesus has already done the heavy lifting for you. Ask Him to change you. You may still feel intimidated, but go forward anyway.
But if any of you lacks wisdom, let him ask of God, who gives to all generously and without reproach, and it will be given to him. (James 1:5)